.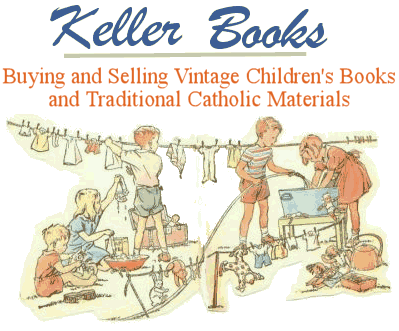 HERE ARE SOME OF OUR FAMILY'S FAVORITES, ALL OF WHICH ARE FAITHFUL TO THE TRADITIONS OF THE ONE HOLY CATHOLIC CHURCH AND AVAILABLE FOR PURCHASE FROM THIS WEBSITE (Place title names in the Search Title block in the top left hand corner):
Catechism in Pictures- 69 Large Full Color Pages
In Heaven We Know Our Own; Or, Solace for the Suffering
Callista A Sketch of the Third Century
The War of the Vendee DVD
St. Bernadette of Lourdes DVD
Fire & Sword The Crusades DVD
The Way of the Cross for Children DVD
Sing-a-long Songs for Catholic Children DVD
The Traditional Mass for Children DVD
The Traditional Latin Rosary DVD
The Traditional Rosary DVD
The Scriptural Rosary DVD
Our Lady of Good Success DVD
Our First Communion with Brother John DVD
The Story of Mary with Brother John DVD
Catholic Songs for Children CD
The Most Holy Rosary of the Blessed Virgin Mary CD
The Most Holy Rosary Recited in Latin CD
What Every Catholic Needs to Know About the Traditional Mass CD
Revelations of Saint Bridget CD
Saint Vincent de Paul CD
Saint Athanasius the Father of Orthodoxy CD
Saint Catherine of Siena CD
Saint Teresa of Avila CD
First Communion Preparation:
Baltimore Catechism No. 1 CD
King of the Golden City CD
Health and Family:
Be Your Own Doctor
Be Your Child's Pediatrician
Back Yard Pharmacy
Nourishing Traditions
Homesteading for Beginners Volumes 1-4
Welcome to the home of KELLER BOOKS! We are the joyful purveyors of vintage children's and traditional Catholic books. A Catholic homeschool family (10 children) ourselves, we buy/sell books that enrich, nurture, and inspire. Please search or browse our inventory of hard-to-find, out- of-print, used, and rare books; as well as our new and newly reprinted books. If you can't find what you like please fill out our off-line search form and we shall attempt to locate it in either our extensive inventory or through other sources.
KELLER BOOKS HAS ADDED NEWLY REPRINTED HARDCOVER COPIES OF VOYAGES IN HISTORY; VOYAGES IN ENGLISH; THE DE LA SALLE READERS; AND THE MENTZER-BUSH CATHOLIC SCIENCE SERIES. ALSO TRADITIONAL CATHOLIC HANDWRITING AND ARITHMETIC BOOKS. THESE UNUSED TEXTBOOKS ARE ABSOLUTE TREASURES IN CONVEYING THE PURE, UNTAINTED CATHOLIC FAITH. IT DOES NOT GET BETTER THAN THIS! ALMOST IMPOSSIBLE TO FIND ANYWHERE ELSE AND WE ONLY HAVE THEM IN LIMITED QUANITIES.
THANK YOU FOR YOUR PAST AND FUTURE PURCHASES FROM OUR FAMILY BUSINESS. GOD BLESS!KELLER BOOKS specializes in Vintage Children's Books, as well as other books, in these categories and more:

Vintage Children's and Teen Series Books

Homeschool Living Books

Catholic Children's Books, CD's, DVD's

Traditional Catholic Books, CD's, DVD's

Horse, Dog, and other Animal Books

Vintage Children's Readers and Textbooks